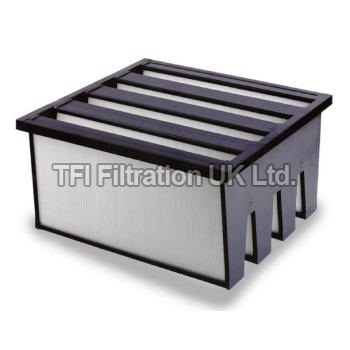 HEPA filter panels are High-Efficiency Particulate Air filter panels that usually allow complete separation of sub-micron particles. These filter panels are installed at such places where the paramount level of air filtration is required such as clean rooms, semiconductor fabrication, operating theatres, research facilities, food and beverage industry, the electronics industries, nuclear and pharmaceutical manufacturers. Nowadays, customers in massively regulated industries with strict quality requirements trust a reputed HEPA filter panel manufacturer in order to get top quality filter panels. These filter panels aid protection against destructive health and financial consequences like when a manufacturing process contaminates food and beverage or a contagious virus spreads outside a research lab.

The filtration medium is provided by ultrafine micro-glass fibres turned into a paper-like surface which are pleated to give filter-media surfaces to be supplied in different grades depending upon the level of filtration efficiency required. The filter paper is formed into a close pleated package to provide a large surface area which is around 40-100 times the area of face dimension.

With the changing times, the application of HEPA filter panels is also required not only in industries but even at home and office as well. Expelling allergens and bacteria from your home or workplace is always a major concern for many people. The purpose of HEPA filter panels for cleaning appliances offer a variety of advantages to those who want to eliminate allergens and bacteria from any indoor environment. Their structure, process, function and capabilities grant them to remove allergens, pollens and bacteria from a variety of environments and surfaces.

Generally allergens and bacteria are found in the air but can also be found on indoor surfaces like rugs, carpets, drapes, bedding, furniture, countertops, and floors. Buying a vacuum cleaner installed with a HEPA filter panel is a good decision that will intensely cut down the number of pollen and bacteria found on these indoor surfaces. It helps in providing relief from numerous seasonal as well as year-round allergens like dust, smoke, pen dander, pet fur and many more.

Due to the increase in application of HEPA filter panels worldwide, the demand for this product is also increasing rapidly. If you are looking for the best HEPA filter Panel Supplier in India then you should carefully consider the following aspects:

They should be known for supplying fine quality and durable products.

They should have a wide range of products in various sizes and specifications.

They should have a great logistics system to deliver the products timely.

They should conform to the industrial standards and norms.

These filters can be used for various purposes. Therefore, choosing the right quality product supplied by the best HEPA filter panel exporter is the right thing to do to live a good life.

Thus, it can be concluded that this useful filter panel can be used for various purposes especially to remove pollen, pet dander and dust mites which are some of the most common allergies to which different people have varied reactions.
This entry was posted on October, 21, 2021 at 10 : 45 am and is filed under HEPA Filter Panel. You can follow any responses to this entry through the RSS 2.0 feed. You can leave a response from your own site.