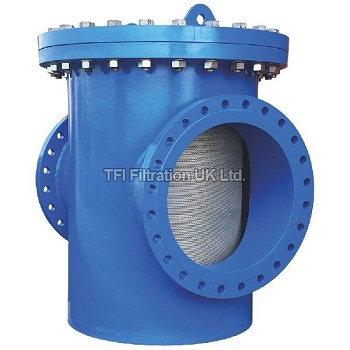 A basket-type strainer is a device that uses a mesh screen to filter out foreign particles in a horizontal pipeline. After that, these particles are removed from the filter and will not make their way into different downstream equipment such as traps, valves, and pumps. It is very useful for different applications.
The Uniqueness of Basket Strainer
A filter removes the dirt particles from the liquid to make the liquid dust free. This device takes out material that is not wanted in the fluid and can be a valuable product that may be saved. The basket strainer is designed for installation in horizontal lines. For liquid service applications, a basket strainer is useful. A basket strainer is useful where high flow capacity is essential.
Working Pattern of the Basket Strainer
A basket strainer is installed to support the equipment from damage caused by unwanted debris. The unwanted debris may be dirt or other foreign particles that make their way into the fluid process. A basket strainer is constructed in horizontal pipelines where high flow capacity is essential.
Basket-type strainer exporters use a unique process to install basket strainers upstream of equipment like traps, control valves, and pumps. It keeps the potential corrosive or damaged debris from making its way down the pipelines. It can be installed in a single series to increase filtration. The basket strainer comes with a single chamber or multiple filters.
How to Select an Authentic Basket Strainer
Each application could require a different basket strainer. Consider the unique functions of your pipeline before deciding on a filter. Important factors include your pipeline's pressure and temperature requirement—the type of liquid flow, debris size, cleaning frequency, and maintenance frequency.
Suppose you choose a duplex-style basket-type strainer manufacturer that keeps two strainer baskets fed by diverting valves. This system allows one basket to be cleaned and maintained while the other maintains the flow.
Benefits of Using Basket Strainer
The basket strainer is very useful to those who swim in the pool. A basket strainer provides the ability to keep the swimming pool clear of insects, leaves, and other debris that can damage the bottom of the swimming pool. Apart from this, a basket strainer has a few other benefits-
1The basket strainer gets a little complication in removing the larger particles such as rocks, organic matter, chemical clots, and organic matter.
Basket filters are useful in petrochemical operations because they can strain undesired solid particles from fuel lines and transport pipelines. These filters are useful to purify the substance properly.
In the paint manufacturing industry, a basket strainer is very useful. It makes the paint super smooth by removing the undesirable solids. A filtration solution is sometimes applied to create a product without any lumps.
A basket strainer is closed and contains a flow that removes the larger particles.
A basket strainer is a great situation where high flow and pressure are essential.
Always consider these factors while choosing the best basket-type strainer supplier in India