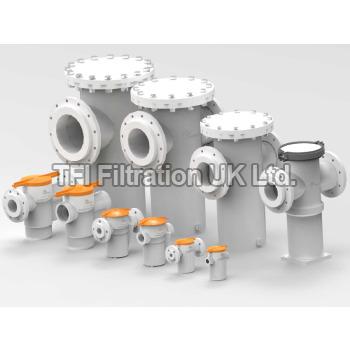 While selecting any material for effective plumbing water services, numerous matters are needed to be ascertained to get better functionality and long-term use. When it comes to the matter of selecting a material for filter strainer, no other material can provide better benefits than fibre reinforced plastic. PP/FRP filter strainer is the most productive one among the various filter strainer material.
But before stepping into the major merits of fibre reinforced plastic we need to know what FRP or fibre reinforced plastic is.Fibre reinforced plastic (FRP) is a special category of plastic in which the stability of low strength plastic material is enhanced by means of the high strength of fibres.
Fibre reinforced plastics contains two main elements, one is matrix and another is fibre. The purpose of matrix is to aid and fasten the fibres in the accurate stance. Matrix also impedes fibres from surface deterioration and harsh weather conditions.The matrix element should show strength with moisture and temperature.
The FRP fibres are the main ingredient that holds the real weight.The coalition between the fibres and the matrix is commonly created with the assistance of a chemical sealant. Most of the fibre reinforced plastic manufacturers in India offers two types of FRP, one is GRP or glass-reinforced plastic and the other is CRP or carbon-reinforced plastic.
Benefits Of FRP
As we started earlier that FRP is a highly productive material that is used vastly for various purposes. The extensive beneficial attributes of fibre reinforced plastic makes it a great choice as any effective plumbing solution.
Lightweight
The primary merit of FRP or fibre reinforced plastic is it is extremely lightweight. Due to its extremely lightweight feature, FRP doesn't require any additional installation and labour charges. It can reduce the cost of transporting because of its extraordinary lightweight characteristics.
Strong And Durable
Most of the fibre reinforced plastic suppliers also confirmed that the sale of FRP is high due to its exceptionally strong and durable nature. Users can require less material utilization to obtain better or similar accomplishments in comparison to traditional substances which ensueless resource usage as well as waste output.
High-Resistance
Fibre reinforced plastic is not only lightweight, strong, durable and highly functional but also contain high resistance against any harsh weather conditions, normal deterioration and extreme moisture. FRP also show high tolerance against corrosion and rots. Apart from these, they exemplify a lengthy and yet more worthwhile service life. FRP based products barely need any replacement nor much sustenance.
Recyclable
Fibre reinforced plastic is more efficient than the other material because of its high recyclable features. FRP can be easily recyclable with minimum energy and effort. Diversified recycling procedures can be executed to acquire numerous ingredients from the recycling process.
Some Demerits Of FRP
When you are ordering FRP from any reputed Fibre reinforced plastic exporter, always check the demerits of FRP before making an order. Though the bans of FRP doesn't affect the extensive bond of it, still you need to know the demerits also before making any decision.
• The strength of FRP in an orientation perpendicular to the fibres is incredibly poor.
• The layout of products formulated from FRP is complicated.
• The manufacturing and testing of FRP particles are highly technical.
Therefore, choose fibre reinforced plastic while you are searching for an efficient filter strainer. This article would definitely show you the right path without any hitch.